Tuesday Sep 26, 2023
Jonas Sublett – Bike Life / Real Talk / Bikes are Therapy / Marji Gesick #146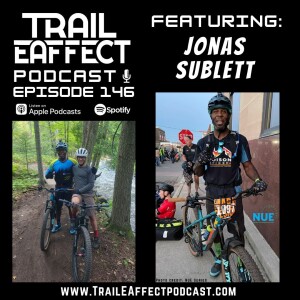 Jonas Sublett – Bike Life / Real Talk / Bikes are Therapy / Marji Gesick #146
Topics Covered in this show:
Marji Gesick 2023
Dakota 5-0 2023
Jonas on Single Speeding
Jonas on Not Finishing
Unofficial Aid Stations at the Marji Gesick
Bikes as Therapy
Jonas on getting his brother Dion into riding bikes
Jonas on getting his mother into riding bikes
Jonas on getting people on bikes
Jonas on PTSD and how the Bike helps with his trauma
Jonas on Hauling his bike while driving his Semi & riding
Jonas on some of the Racial Inequalities that he's has faced
Jonas on David Goggins
Jonas back to the Marji Gesick

Todd Poquette needs a hug
DumDums
Blame Todd & Blame John DeGeorge

Jonas on KETL Mtn Apparel
Closing Comments
Trail EAffect Show Links:
Marji Gesick: https://906adventureteam.com/mountain-bike-events/marji-gesick/
Dakota 5-0: https://www.dakotafiveo.com/
Episode Sponsor - Coulee Creative - Websites and Branding: https://www.couleecreative.com/
KETL Mtn Apparel Discount Code has been suspended due to the Promo Code getting out for the masses to use without actually listening to the podcast. Sorry about this. 
I still stand behind KETL Mtn Apparel 100% and believe they have some of the best products on the market, especially at very reasonable prices even without the code when compared to a lot of other brands. 
Trail One Components Discount Code (20%) TrailPod
Trail EAffect Podcast Website: www.traileaffectpodcast.com
KETL Mtn Apparel Affiliate Link: https://ketlmtn.com/josh
Trail One Components: https://trailone.bike/?ref=XavfBrRJfk4VOh
Contact Josh at evolutiontrails@gmail.com
This Podcast has been edited and produced by Evolution Trail Services